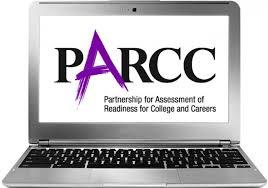 Dear Parents and Guardians,
District 15 students in grades 3-8 will take the PARCC (Partnership for Assessment of Readiness for College and Careers) test again this spring beginning April 11th and ending April 28th. Like last year, students will be assessed in the areas of English Language Arts and Mathematics and will be taking the assessment on computers. An additional science assessment for 5th and 8th grade students that takes approximately one hour to complete will be conducted during the week of April 3rd thru April 8th.
We anticipate receiving the results of the 2017 PARCC assessment at the beginning of the 2017-2018 school year at which time we will communicate district and school results as well as individual results of your child's performance. As with all assessments, we will use information from PARCC to plan improvement strategies and activities that will benefit our students, teachers and community and enhance our educational programming.
Through their daily work in the classroom, teachers have been taking the appropriate measures to prepare your children for this assessment. However, if you are interested in learning about additional ways that you can support your child for the upcoming PARCC assessment or would simply like to learn more about what the assessment entails, please refer to the following links.
PARCC Resources from the Illinois State Board of Education:
https://www.isbe.net/Pages/PARCC-Place.aspx
PARCC Released Test Items:
https://prc.parcconline.org/assessments/parcc-released-items
PARCC Practice Tests:
https://parcc.pearson.com/practice-tests/
Should you have further questions about the PARCC assessment, please do not hesitate to contact me by email at jreitz@d15.org or by phone at 815-385-7210. As always, thank you for your involvement and support in your child's education and growth.

Sincerely,
Josh Reitz, Ed.D.
Assistant Superintendent; MESD #15
Click here for the Spanish Letter